In 1998, under the bright lights of Hollywood, a beautiful, funny, all-American girl and a handsome, charming, all-American guy met and fell in love.
Those two people, Jennifer Aniston and Brad Pitt, got married, said some lovely things about one another in public and then ― like many celebrity couples ― got divorced. They had subsequent relationships (hi, Justin Theroux and Angelina Jolie), but their once-perfect union remained tabloid fodder throughout. People couldn't help but fantasize about an eventual reunion.
Now, the dedicated enthusiasts who have obsessed over the ex-couple for the past two decades find themselves at a curious junction: Both Jen and Brad are single again. (Aniston announced her separation from Theroux on Thursday, while Pitt and Jolie split back in 2016.)
Like clockwork, these shippers came out of the woodwork this week to demand Aniston and Pitt reignite their flame. But why? What makes people feel so invested in the fate of these two once-wedded blonds? What do they think they'll accomplish by tweet-begging for Brad to call Jen?
We weren't sure. So we asked a few experts to help.
Dr. Kathryn Smerling, a New York-based psychotherapist focused on transitory and crisis phases of life, told HuffPost that people feel personally involved in the reunion of Aniston and Pitt because, well, "it's all fantasy."
"When there's hope that love is possible for a once-shattered marriage like Brad and Jennifer's, there's this fairytale-like feeling that happily ever after is possible for all of us," she said. "We all think that what's happening to Hollywood couples is happening to us. We think to ourselves, 'If they can get through it, maybe I can, too!'"
"Brad and Jennifer captured our hearts when they were together," she added. "When we see a couple as admired as Jen and Brad were, it's like seeing our role models fail ― in turn that leaves us vulnerable, saddened, and fearing the worst."
Dr. Lindsay Henderson, PsyD, a psychologist who treats patients virtually via telehealth app LiveHealth Online, agrees. When something like a breakup or separation happens, she told HuffPost that the negative event "does not match up to the fantasy image we prefer to have of their lives that we hold on to. The joyous events fit much more neatly into the perfect image that we have already created in our minds."
"Our over-identification with the celebrity ends up causing personal discomfort, and because we have elevated them to having achieved such enviable success, it can sometimes be more troubling to us when they fail than when people in our lives that we actually know and have relationships with fail," Henderson said.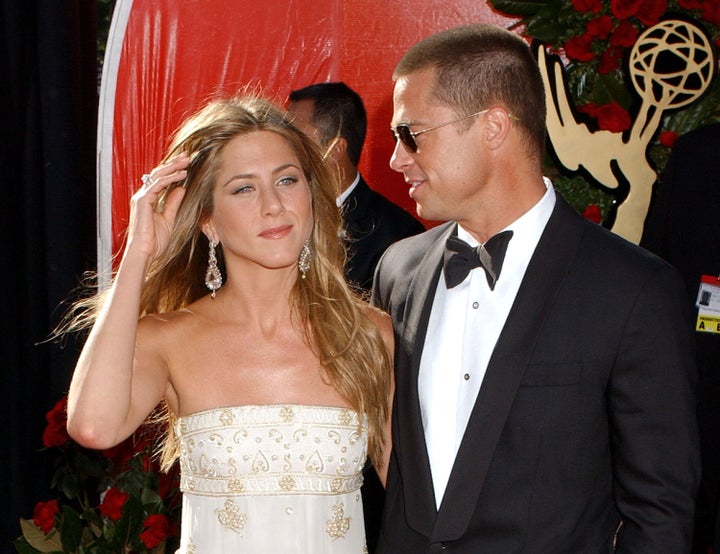 When Aniston and Pitt announced their separation back in January 2005, after nearly five years of marriage, the world mourned hard. Once news surfaced that Pitt had apparently fallen for his "Mr. and Mrs. Smith" co-star Jolie, and reportedly left Aniston as a result, media coverage spiraled out of control. Did Pitt cheat on Aniston? Did Jolie pressure him into getting a divorce? Was Aniston OK?
And it only escalated from there.
A few months after the breakup announcement, Pitt was pictured with Jolie and her adopted son Maddox on a beach in Kenya. A year later, the pair announced they were expecting a child together. The headlines read: "Angie's Joy, Jen's Pain," "How She Stole Brad," "Jen Breaks Down." It was the "love triangle" heard 'round the world ― apparently, it still is.
Cue the Pitt-Aniston reunion campaign on social media:
When asked why they craved another Jen-Brad romance, Twitter users happily provided their own answers.
"They look good together and seem like a good match," Mike Starcher said. "We want them to be happy."
"It's obviously very private and none of our business but life would come to full circle for both of them," Kushbu S. Mehta explained. "Blame the number of Mills and Boons I've read in school! #hopelessromantic."
Before deleting their tweet, a user with the display name Pantera Negra said it simply: "Want two hot people to do it."
And then there were the dissenters. Cherie MacDonald said, "He cheated on her, why would she want to be with him again? There is someone perfect out there for Jennifer but it's not Brad in my opinion."
"I would rather Angelina date Justin," Will English joked over text, "or become BFF with Jen, like Debbie Reynolds and Liz Taylor."
Ultimately, Smerling believes we get "hooked" on what happens next in a celebrity's life in the same way we get hooked on soap operas or reality TV. "We're obsessed with the drama and the scandal," she said. "For some people, it ― albeit, unfortunately ― is like a drug. We as a society are addicted to escapism in many forms, and celebrity fanatics are no exception."
But at the end of the day, it's "damaging" for people to invest in a celebrity couple so passionately.
"The inclination to get wrapped up is totally natural. But our cardboard-cutout culture has de-humanized celebrities, to the point where they're perfect in our eyes. That's where it takes an unnatural turn," she said. "We have forgotten that they're human and experience real emotion, real depression and certainly real mental health issues. And it's because we think they're perfect that we lack sympathy, and automatically resort to feeling giddy when the plot thickens in their lives."
"It is good to remind ourselves that celebrities are normal people facing the same basic human emotions and struggles that everyone else does, especially if you find your emotional responses to events in their lives seeming a bit disproportionate," she told HuffPost. "These are normal people who experience the same emotions as everyone else, but generally speaking with a much larger bank account with which to live their glamorous lives."