WASHINGTON ― Senate Majority Leader Mitch McConnell (R-Ky.) promised senators a freewheeling debate on immigration. Thus far, however, there's been no real floor action at all ― and with Republican leaders saying the Senate will move on from immigration after this week, there's a risk they'll come up empty-handed.
Senators are struggling to find an immigration proposal that could get the support of 60 Democrats and Republicans. With two self-imposed deadlines approaching, any delay could further threaten protections for Dreamers, undocumented young people who came to the U.S. as children. And without a bill, lawmakers don't have a way to proceed.
Instead of holding votes on Tuesday, senators spent the day blaming each other for inaction.
"We're going to find out real soon whether Democrats are serious, whether or not they want a solution or whether they just want a campaign issue," Sen. John Thune (R-S.D.) said at a press conference where Republican leaders criticized Democrats for blocking a vote on a Republican amendment on Tuesday.
Soon after, Senate Minority Leader Chuck Schumer (D-N.Y.) accused McConnell of violating his own promises on the immigration debate.
"Yesterday, the majority leader said that the purpose of this week is not to make a point, but to make law," Schumer said Tuesday. "We couldn't agree more. That's why I was disappointed that the majority leader attempted to start voting today with an amendment that does absolutely nothing to address DACA, does absolutely nothing to address border security."
Instead of holding votes on Tuesday, senators spent the day blaming each other for inaction.
McConnell led off the immigration debate with a proposal on "sanctuary cities" ― jurisdictions that don't fully cooperate with deportation efforts. That amendment would have little to do with undocumented young people who are at risk of losing protections, nor would it address the border. It's not even on President Donald Trump's list of demands for an immigration package. But McConnell said that Democrats could offer an amendment of their own as well.
Schumer immediately rejected the idea, instead proposing to hold two other votes: one on a bill based on Trump's framework ― which Republicans had not yet introduced ― and another on a bipartisan bill to help Dreamers and ramp up border security. He said that even if neither bill received 60 votes, it could allow them to better assess what proposals could pass. But that didn't happen.
On Tuesday evening, McConnell attempted to schedule a vote again, but was again blocked by Democrats. The Senate will pick the matter up again on Wednesday.
McConnell has indicated he wants to finish the immigration debate this week, and he's shown little willingness to give senators more time. That's led Republicans who favor stricter immigration laws to believe they can run out the clock on the immigration debate if no proposal finds 60 votes ― meaning conservatives have little incentive to compromise and every incentive to hijack the debate with divisive issues like "sanctuary cities."
Democrats don't want to give in on their immigration principles just to find a solution by swallowing Trump's proposal, which would grant legal status to some Dreamers while slashing legal immigration pathways, increasing border security measures, and eliminating protections for children and asylum-seekers. Democrats realize that McConnell is trying to put them in the bind of either abandoning some principles or being left with nothing.
Thus far, Democrats have chosen the latter.
Trump gave a "deadline" of March 5 for Congress to act to protect young people who benefit from the Deferred Action for Childhood Arrivals, or DACA, program. Each of those DACA recipients has a deadline of their own for when they will lose protections from deportation and permission to work in the U.S. But if senators can't find a bill this week, the debate could easily get lost in the Senate calendar.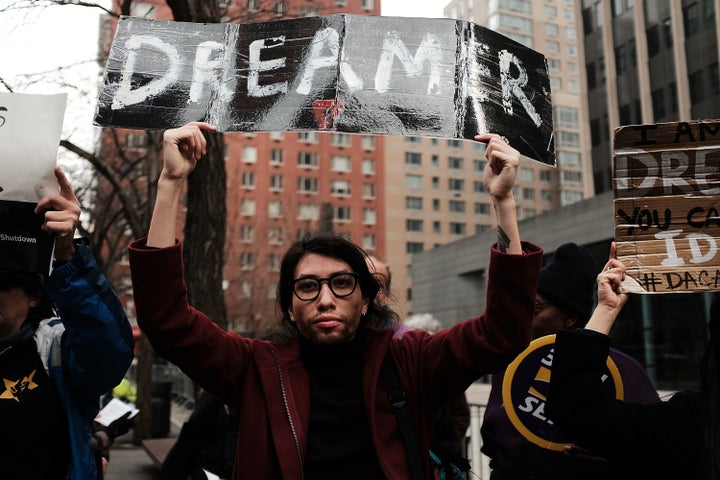 McConnell says lawmakers have had plenty of time to get something ready, even though some pieces of proposed legislation from his own party had not yet been introduced. Since Trump and some Republicans are asking for large-scale changes, any legislation is likely to be long and complicated.
"There's no reason in the world why, if there is a core 60 votes to support something, we can't achieve it in the next few days," McConnell told reporters.
The Senate did successfully open debate on immigration Monday night, but weeks of bipartisan negotiations haven't yielded a compromise proposal. Minority Whip Dick Durbin (D-Ill.) said Monday that he didn't see a scenario where any of the current proposals could pass with 60 votes.
The 49 Democrats in the Senate are hoping to find 11 Republicans willing to join them on a DACA proposal, but even offering significant amounts of money for a wall along the U.S.-Mexico border hasn't moved enough Republicans.
Democrats clearly have some support from Republicans for extending DACA protections and adding more money for border security. Sen. Jeff Flake (R-Ariz.) has been clear he wants to preserve DACA, and Sen. Lindsey Graham (R-S.C.) has been a key GOP negotiator in the bipartisan talks. But Democrats need more than just a few Republicans to pass a proposal that win over their side.
Even if Democrats were able to muscle through a proposal in the Senate, the House could present its own challenges. House Speaker Paul Ryan (R-Wis.) has said he'll only put a bill on the floor that Trump would sign. Democrats have hoped that, if the Senate could pass a bill with 60 votes, Trump might signal some openness to the proposal and Ryan would feel the pressure to at least give the bill a vote.
The idea that a bill could pass with 49 Democrats and 11 Republicans and become law doesn't fit reality, according to Senate Majority Whip John Cornyn (R-Texas), who said that passing a bill through the Senate with mostly Democrats would be a "futile gesture."
If senators can't even get the debate off the ground, however, there's little reason to believe a famously obstinate institution like Congress will solve a famously difficult issue like immigration before March 5. That means Dreamers will begin to lose their protections in larger numbers, even if they are awaiting DACA renewal because of court rulings that temporarily reopened the program.
Schumer said Democrats won't give up if they don't reach a solution by the end of the week.
"We're going to keep fighting in every way we can," Schumer said.